How much will a chimney sweep cost you in 2020? The simple answer is that it depends on the work required however we only ever undertake the work that is necessary to ensure your safety, are always upfront with any additional work we deem is necessary and always offer excellent value for money.
Unlined flues, large inglenooks, nest removal, badly tarred and neglected flues usually require additional and different work to get them safe to use again and are more expensive.
You wouldn't expect a great service on your car if you were quoted a fixed price without it being looked at first, well the same thing applies here. If you are given a fixed price, regardless then you are likely to get a service matched to the price as opposed to the need; buyer beware.
It takes on average 45-60 mins for an annual sweep and clean up so you should allow for this in your timing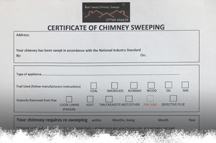 .
You will be issued with a certificate of sweeping covering each appliance for insurance purposes and warranty issues with stoves and liners, also for when you sell or rent the property.

We also operate a reminder service to help you maintain the frequency of your sweeping. We will contact you at the relevant interval ( depending on your appliance and use) usually by email or text giving you time to make a booking.
Please note that we also send out a text reminder the day before your appointment to your mobile phone. Should you cancel at this point or we are unable to get an answer at the property at the booked time a late cancellation fee will be levied if we are unable to fill the vacant appointment slot.
If you are looking for the cheapest sweep in Bristol please don't bother to call us for a quote, there are lots of cheap uninsured shoddy sweeps about to choose from. If however you want a quality service with results you can trust and at a fair price then please make the effort, you wont be disappointed.
As a guide the majority of the standard annual sweeps we do cost £65 for 2020.
Please note that if we arrive and your appliance is in a dangerous condition or cannot be swept due to, for example, poor installation, a flat rate of £60 is charged, if additional work is required (such as CCTV work, dismantling an installation etc) then additional fees may be incurred. We may, at our discretion, offer a discount on a return sweep once the issues have been rectified. Every now and again we recommend stove owners book a full clean and refurbishment to bring the appliance back to an as new condition. If you are interested in this service find the details by clicking HERE