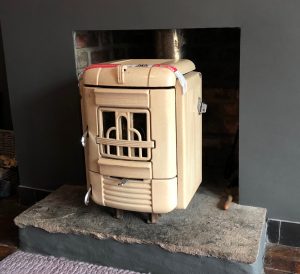 Installing a stove, liner and associated parts is not brain surgery. All parts are freely available, specific training is provided on 'how to do it' and the government has provided free online guidance on what standards need to be met. It is called Approved Document J.
Given that parts, training and guidance is available it may surprise you that we find many stoves installed incorrectly and, in many cases in a condition that can and does cause danger to the household and sometimes adjoining premises.
Typical issues include not maintaining the correct clearances to combustible materials, no liner installed when the flue is defective and can leak carbon monoxide, installing a liner upside down or without the necessary connectors and not providing adequate sweeping and clearing access or fitting the wrong cowl.
A competent and conscientious chimney sweep should easily recognise and highlight such issues which is why it is important to get one round each year, especially if you have recently moved into a property and do not know the stoves provenance.
If you are keen on getting a stove installed then choose your installer carefully. Look for a specialist as opposed to a builder or plumber who may or may not have a qualification. Look for experience in installation and, if possible reviews of their work. This is one case where cheapest is rarely best.
This lovely antique enameled stove was a focal point in a lounge and was a reason why the buyers fell in love with the property. If they had instructed us to visit the property prior to completing the sale we would have saved them in excess of £2000. Not only was the stove in poor repair inside but it had been installed with home made pieces that leaked gasses into the room, had been incorrectly installed without a liner that provided no sweeping access and was a fire and carbon monoxide poisoning risk assessed as High.
The whole lot has to be scrapped and a new installation undertaken. All that glitters is not gold, in this case the initial good looks hid a dark and dangerous side.
You wouldn't get the postman to fit a gas boiler or the painter and decorator to service your car so don't mess with a stove installation; keep your family safe.